Where Nature
Meets
Blockchain

Invest with

Zero Risk
Invest in luxury farmland and connect with nature
Seamless Booking, Enhanced Security, and Record-breaking Returns with GreenLakes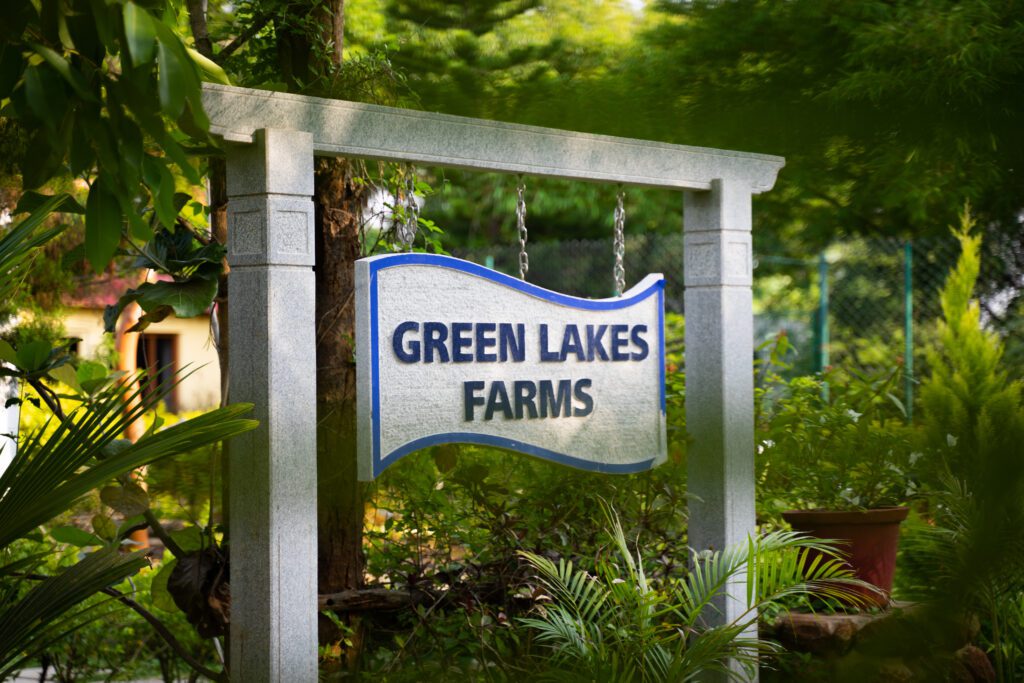 Experience a seamless and convenient booking process, where your journey to owning a piece of paradise begins effortlessly.
Witness exceptional growth with a remarkable 106% increase in value, making GreenLakes an ideal investment choice.
Immerse yourself in a Rest assured untouched beauty with a clear land title, guaranteeing the authenticity and legality of your ownership.
GreenLakes, an award-winning farmland honored by Economic Times and SDG 15 for its sustainability and the most emerging farmland.
Indulge in a world of luxury and convenience with our wide range of amenities, designed to enhance your lifestyle and happiness.
Your safety is our top priority. Our advanced CCTV surveillance system ensures round-the-clock monitoring and protection.
Imagine a place where you can wake up to the sound of birdsong and the smell of fresh air. A place where you can relax in the shade of a mango tree or take a walk in a jamun tunnel. A place where you can grow your own food and enjoy the peace and quiet of nature.
That's Greenlakes, a gated community farmland project where nature meets luxury. With its own waterbody, clubhouse, and a happy community.
But don't just take our word for it. Come see for yourself why Greenlakes is the perfect place to invest.
India's First Blockchain Based Farmland.
Unlock the potential of secure and tamper-proof documentation. Our blockchain-powered platform ensures the integrity and immutability of your farmland documents. Embrace the convenience of seamless transactions, streamlined record-keeping, and hassle-free ownership transfers. Click here to experience the future of documentation.
where innovation meets farmland. We take immense pride in being India's first-ever blockchain-based farmland project. By harnessing the power of blockchain technology, we have transformed the way we document, construct farmhouses, and engage in farming activities.
Join us in revolutionizing farming practices through blockchain technology. Experience a new era of traceability, where you can trace the journey of your produce from seed to table. Witness sustainable farming practices, enhanced productivity, and a community-driven ecosystem that uplifts and empowers farmers
Hear it from our Farm owners
Roshani Yadav
2 reviews
Having heard of their concepts, I went down to see how well they run their farms and was surprised at how well they run their farms were run. As of now, I've planned to invest and I am excited to anticipate and benefit from greater returns.
Avindra Tulsi
6 reviews
This is a must place for NATURE LOVERS. You will be lost in Nature. Apparently there are more than 20000 Trees and over 35 Varieties of fruits. The interaction with the team has been positive so far. I am keenly looking forward to buying a green plot here.
Roshani Yadav
1 review
I was looking into managed community farm lands and I wanted amenities suitable for my family such that i could enjoy at the weekend. I finally got it right with Green Lake's. Thank you team for building such an amazing agricultural farming environment.I have to appreciate the smoothness of registration process as well as Hazel free maintenance of the land. Keep it up.
Sanmitra Bhosle
1 review
Great experience. Enjoy lot. It's a truly amazing farm, and it has pretty fancy facilities—an excellent opportunity to learn about farming in conjunction with a brilliant weekend trip plan. Thoroughly enjoyed the experience! We've waited patiently long enough to buy land in Greenlakes, so we are very eager to begin farming.
Kavindra Rawat
7 reviews
Just amazing! Mr Almas and his team is phenomenal. They have a dedicated team to make sure you have all required documents for legal verification and they always respond quickly. Mr Almas is always reachable and ready to help, he is a true gentleman. The team is sincere and dedicated towards their customer, which is difficult to find in real state business. I wish this team a great success ahead.
Ghanshyam Pareekh
5 reviews
After 8months of our research and after multiple visits to different farms around the City. we came across greenlakes Farmlands and when we visited this place itv was love at first sight. Itv may sound cliche but we decided if we ever want to build a second home and spend our holidays it has to be greenlakes. The booking process was very smooth and since it was our first agri land purchase, they were very patient with us. we took a good time for legal verification we wanted to be very sure. We are very thrilled to be building our quit little space here in the middle of Nature. Thanks to Almas and his team for the cooperation.
Ramesh V
11 reviews
Best and most trusted people, booked one plot last week after two years of hunt in and around Bangalore, property has lot of greenery and close to Bangalore i recommend these people without second thought .Mr. Almas CEO justifies his name (Diamond),Mr.Ravi marketing person is simply superb, based on my suggestion one of my friend is also booking plot shortly.
Frequently Asked Questions
Questions you might ask about our sevice.
Book your Plot before it is